A study by Harvard shows that 95% of purchase decisions are emotional. Further, research by Gallop has identified that 70% of decisions are based on emotional factors, while only 30% relate to rational factors. All of these reinforce the power of emotions and their capacity to override reason.
Emotional Value Index (EVI®) was created because there wasn't a comparable and easy way to understand and quantify the emotions of your customers. EVI® is created based on scientific research and in collaboration with several CX professionals and retail businesses. Based on the correlations between EVI® and business revenue, research shows that customers who feel positive emotions towards a business spend up to 40% more than those who feel negative!
Emotions go beyond the willingness to promote and recommend as well as ease of use or doing business. CSAT, CES, NPS, etc. are good but not enough. Here is everything you need to know about how to use EVI® surveys to boost your business and of course some visual examples that many of you have asked for.
Emotional Value Index (EVI®) question type
You can measure with Feedbackly what emotions drive your sales and what causes the churn. You have probably heard a lot about the unique EVI® question type. If you haven't yet, then long story short, this circular-form question helps you measure your Emotional Experience – how your customers feel about you.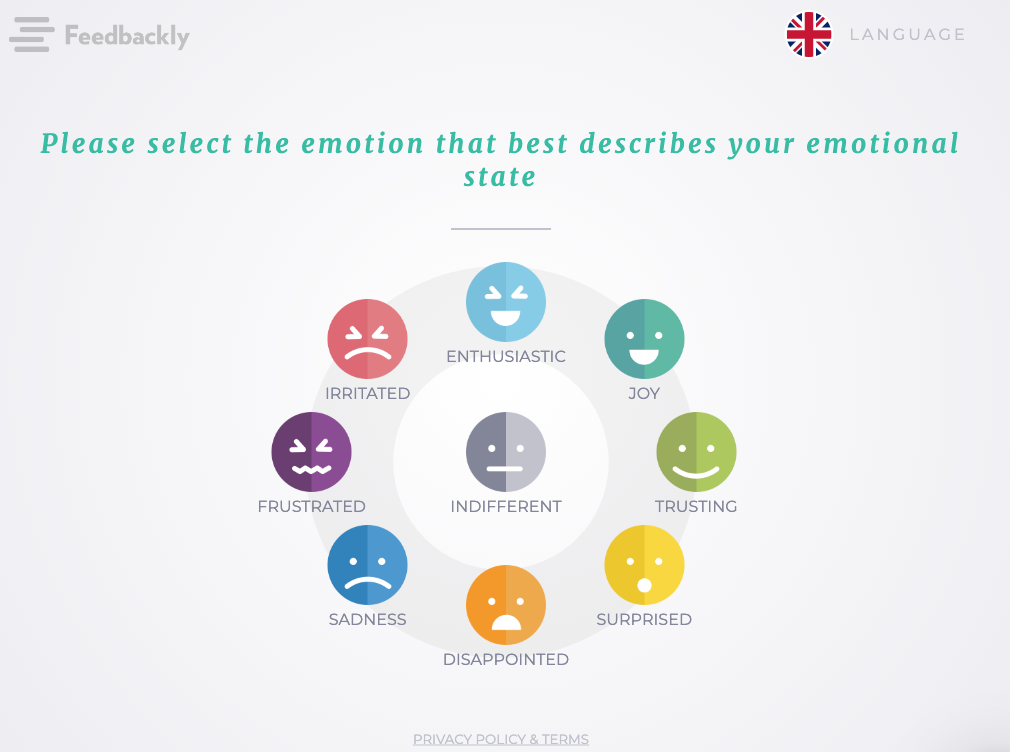 The Emotional Experience question is usually together with an open-text question that gives you essential insight into what you should emphasize more or fix to evoke correct emotions. By enriching feedback from your customers with operational data (e.g. purchase amount), you can learn what emotions drive your sales and what causes your churn.
EVI® survey for the purchase stage
The most common survey to start with is the purchase stage survey. This survey can be sent to anybody who starts your purchasing process. Below is an example of what it could look like:
How did shopping at our web store make you feel? (EVI® question type)
What is the main reason for feeling this way? (simple open text field)
Please rate the following: payment options, delivery options, etc. (easy-to-use sliders)
Anything you would like us to improve? (simple open text field)
How likely are you to recommend our web store to your friends and colleagues? (NPS question type)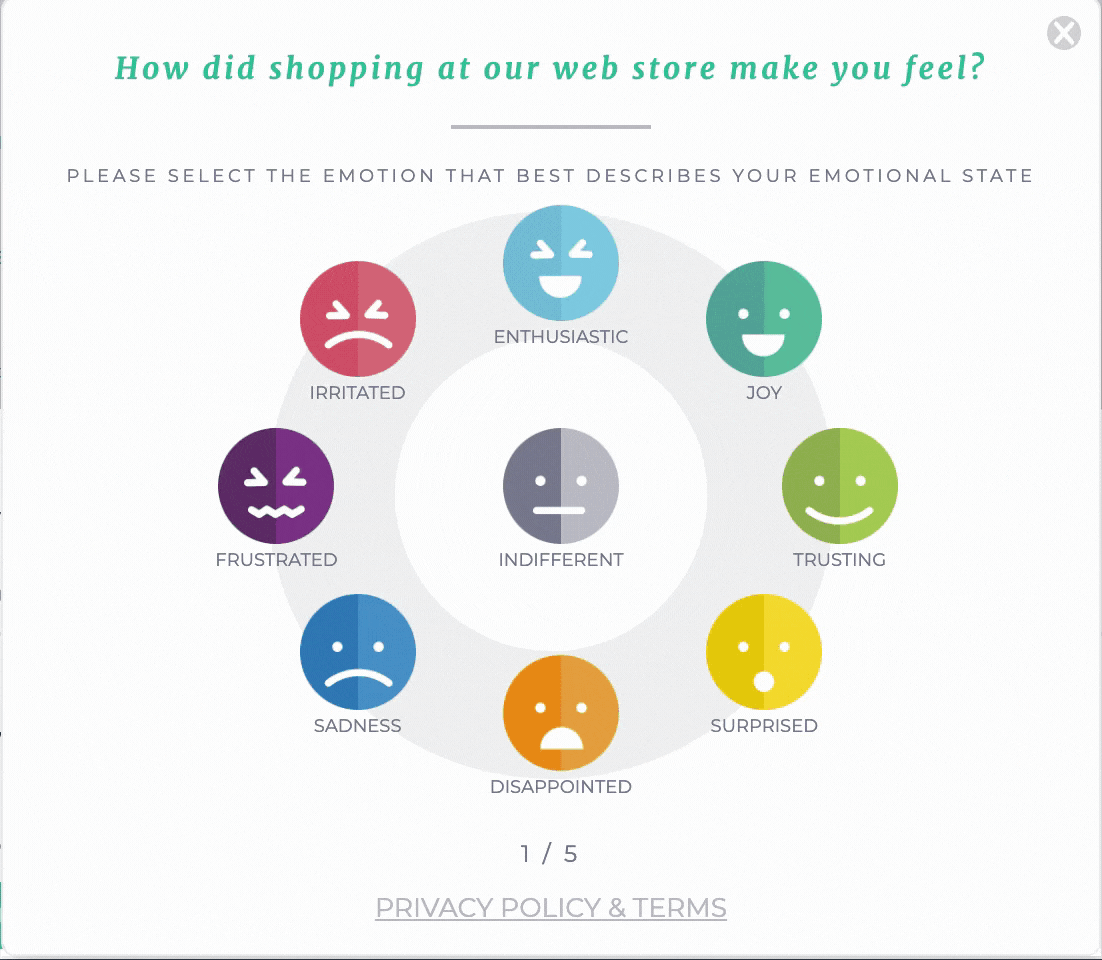 Tons of pre-built survey templates
To make creating surveys quicker and easier than ever before, we've prepared 15 pre-built survey templates for you. And to make it extra easy, we have also sorted them by theme: surveys for different Customer Journey stages, surveys for measuring Emotional Experience, surveys for measuring Employee Experience, and surveys for general use.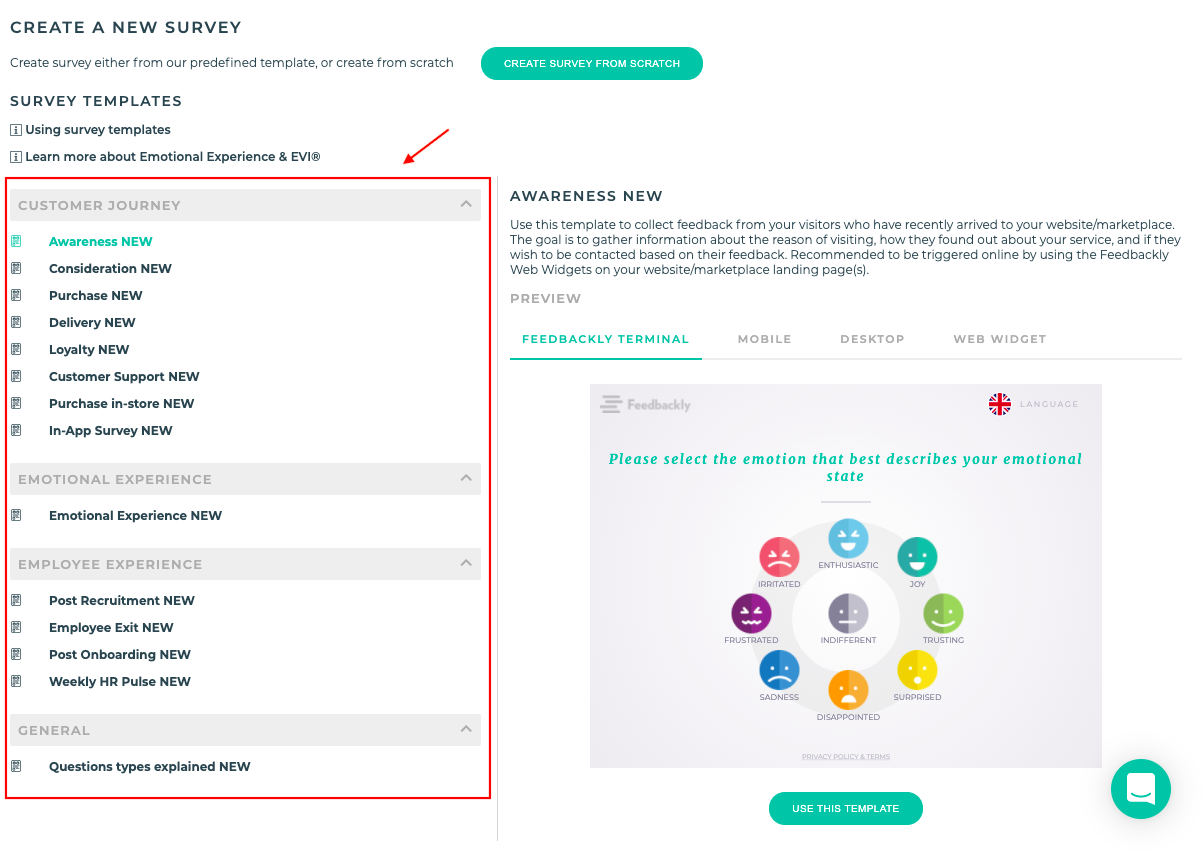 Feel free to try it out on your Feedbackly Dashboard or try it for free at our free trial here. You can also contact us via our contact form if you would like us to show you personally how your business could benefit from it or if you have any other thoughts or questions.
Measuring emotions can be powerful!
Want to learn more about Emotional Experience and the Emotional Value Index(EVI®)?