Customer experience is the overall perception that a customer develops during the course of their journey with a business. Now for businesses, paying attention to improving customer experience is the key strategy to attract and retain clients and grow sustainably in the long run. 
Feedbackly is a tool you can use to optimize Customer Experience (CX) in your business. It will monitor, gather, analyze, and even help you evaluate your customer feedback and gain actionable insights from them! If you already use Feedbackly, you might know the many benefits of using the platform to manage CX. 
Now, if you want to share the insights or survey results you have obtained from Feedbackly with others in the organization or with a third party, how can you do it?
In this article, we are going to show you how to do it with a few clicks on Microsoft Teams!
1. Launch a survey and start collecting feedback
The first step, of course, is to gather responses using the tailored survey you have designed for customers. You can use Feedbackly's survey templates and customize them based on the nature of your business. What's more? Make it visually appealing using designs and colors that complement your business logo or website UI. 
You can publish your surveys across multiple channels and gain an accurate and real-time overview of your entire customer journey. Some of the ways in which you can collect feedback online are social media, email, SMS, QR code, and URL link. You can even have a Feedback terminal in-store for customers to respond then and there!
2. Create a dynamic link to your survey results 
A dynamic link essentially allows you to share the results generated from surveys easily and conveniently with anyone. We know that surveys are published at every touchpoint and phase of the customer journey, and it doesn't make sense to share everything with everyone. For example, your marketing team would benefit more from surveys done in the pre-purchase phase. Feedbackly allows you to use filters and customize the results based on your audience. Some of the filters available are date range, survey type, and touchpoint.
In order to create a dynamic link, you have to click on the "Survey Analytics" and set the filters. Then, you have to "Share Results" and choose your preferred settings under it. Once done, all you have to do is "Create Link," and a link will be generated. If you want to know the process of creating a sharable link in detail, click here. 
3. Embed the survey results link to a Microsoft Teams channel
Now that you have the link, the next step is to embed it on your Microsoft Teams channel for others to access it. It will allow other stakeholders in the organization, with authorization, to review the survey results and use them to improve their functionalities. 
Again, it is very easy.
Once you open Microsoft Teams, select the relevant "Team." Then, you can select the "Channel" in which the results should be shared. Then, you have to add the link under a new tab in the "Website" section, making sure you provide a clear, short description of the contents or the types of survey results included in the link. Remember that you can always enable others to filter survey results based on what they wish to view! For a step-by-step guide, click here.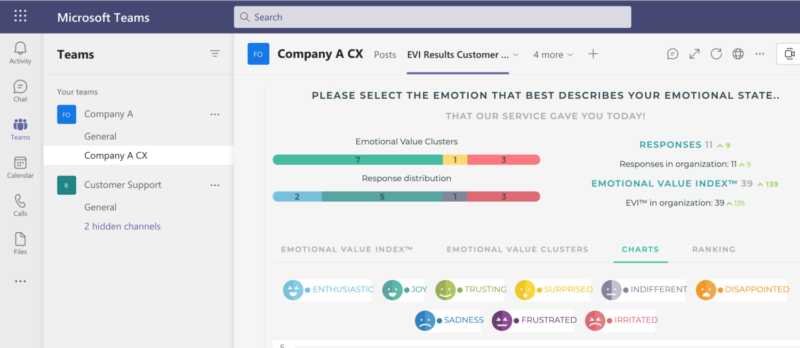 At Feedbackly, our aim is to make managing Customer Experience strategy less time-consuming. You don't have to spend a lot of time gathering and analyzing customer feedback because Feedbackly has the whole process automated for you. This way, you can actually focus on the next step of delighting your customers!