Feedbackly helps businesses optimize their customer experience through feedback. We aim to make the process of feedback collection and management easy and effective. Our platform enables users to gather feedback via multiple channels for a wider sample and comprehensive analysis.
A two-way SMS is one of the new trendy methods for collecting feedback. It is a useful feedback collection method that improves the engagement between the customer and the brand. Here's why it's a great feature and how to use it for optimum results!
What's a two-way SMS survey?
If you aren't familiar, two-way SMS surveying is a method of collecting feedback from customers via…you guessed it right…SMS! Through the Two Way SMS Survey feature, you can send out a survey via a text message to collect and analyze your customers' feedback. Your customers are able to answer these text messages very quickly and effortlessly. Think of it like a chat flow between you and your customer.
Two-way SMS survey campaigns are one of the oldest forms of feedback collection that existed even before smartphones. Even today, SMS continues to be a popular channel for connecting with customers. It is a familiar and convenient mode for them. And the most important one is that almost everyone from gen-z to older generations owns a smart or feature phone.
A two-way SMS survey campaign is a simple, straightforward, and easy way to gather feedback from your customers. Convenience aside, it is also very effective because it gives you access to a large sample for analytics.
Below is an example of a two-way SMS survey that our customers use – quick and easy – just like your customers like!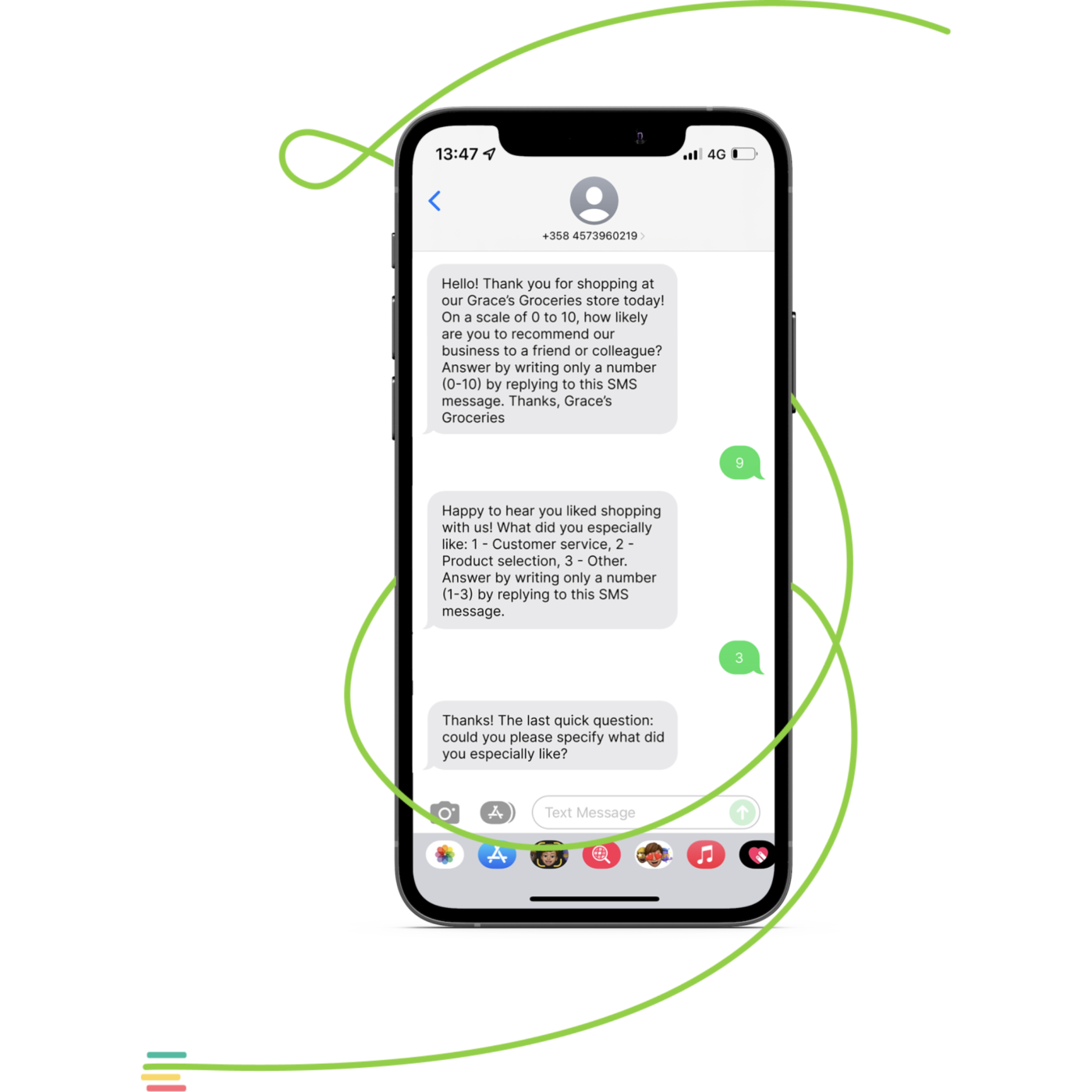 Benefits of our Two-Way SMS Survey feature
Customers are more likely to view SMS alerts more often than email or social media notifications. It gives you access to real-time responses that are more accurate and relevant than delayed responses. Studies show that SMS has a faster response rate than any other channel.
Two-way SMS survey campaigns improve the engagement between the customer and brand as they are more of a conversation between the two parties. Our feature gives you access to a global audience, a more inclusive sample. Customers feel heard and acknowledged because it is a personalized experience.
When do you need a two-way SMS survey campaign?
We recommend you use a two-way SMS survey campaign for short questions that require short answers. Customers don't like to spend a lot of time answering lengthy surveys. The respondent can answer by written text or numbers (just like in the example image above).
Two-way SMS survey campaigns are something customers can answer on the go and are often simple questions. With this feature, you can easily collect and analyze feedback from your customers. This feature supports question types such as NPS, CSAT, slider, and open feedback. All in all, it can be said that a two-way SMS survey campaign caters to customers who value the fact that giving feedback is quick, location-independent, and effortless.
Two-way SMS survey distribution with Feedbackly
With Feedbackly, you can personalize common survey questions to fit your brand. Just create a survey that you would like to send out using our survey templates or create one from scratch.
You can schedule the surveys created to be sent out at a specific time or you can use our API integration to trigger surveys after a specific action is taken by your customer, and it will automatically send the surveys out to your customers at the right time. It is super easy to implement and manage. You can also set up alerts for responses that need immediate attention.
Moreover, you can integrate it with your API, correlate the data with other data sets, and gain useful insights from the responses. Read more on our Help Center article on two-way SMS survey campaigns to learn how to utilize the feature and win the loyalty of your customers!