If you want to build a customer experience strategy, it needs to be built on strong foundations which are robust enough to evolve and change your business without needing to be rebuilt from scratch. Your strategic planning, program governance structure, and change management efforts go a long way toward building your success.
But you also need a flexible Customer Experience platform to support your work. Remember, even if your strategy is in its early stages now, it will grow and evolve, as will your company. To scale your CX strategy (and your success), choose the right system to support your long-term needs. Ensure that you choose a CX management software which fits with the needs of your company, and ticks off all of the major requirements for success in a modern market landscape.
The feature recommendations below are exactly that – recommendations. You may not need some of the features marked as "nice to have". However if you want to be confident that your time and money is going into something that will hugely impact the success of your business and reach a positive ROI for your CX strategy, the features labelled "mandatory" will be required. This is not just our opinion, and although there are many topics in the customer experience community which professionals do not see eye-to-eye on, the importance of customer feedback, analytics tools, and customer communication are widely agreed upon.
Keep reading to see exactly what you need to have in your CX platform*
CX Platform: Customer Surveys (Mandatory)
Customer surveys are at the core of any world-class customer experience strategy. And we don't mean the customer surveys that you're used to (that don't benefit the customer in any way). We're talking about seamless, beautiful looking, and short surveys that reward the customer instantly. Customer feedback is worth so much to your business, so it makes sense that you should be compensating your customer for their opinion. You sell products and services to your customers, so why can't your customers profit from their opinions?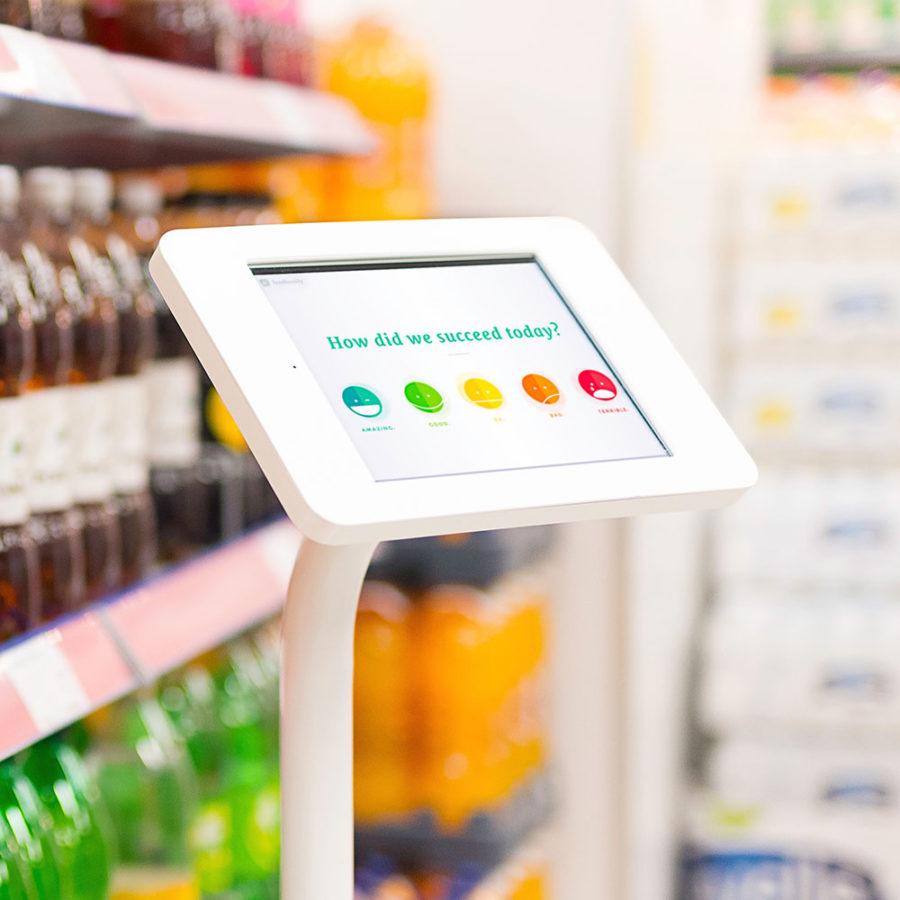 In order to collect valuable feedback from your customers they must be engaged, and most importantly, your must appease the "what's in it for me?" mentality". There are reward systems that can be easily put in place with the right Customer Experience platform which can not only help you retain lost customers, but also maintain your most loyal ones.
To ensure that you're able to both measure and manage your customer experience, the survey capabilities of your system need to go beyond the simple ability to outcast questions and collect the answers. Your system needs to send and receive survey data – that is to say it needs to facilitate the comprehension and organization of the data. It also must maintain a historical record of contact invitations and responses and enable edits and end to end testing of the next version of your survey while your current survey is published.
It's impossible to overstate the importance of actively collecting and 'actually' reading your customer feedback. To avoid "feedback amount" from becoming another vanity metric, the responsibility of going through your customer feedback data must be delegated to the relevant employees and done on a regular basis. Enabling email notifications that send to customer service representatives is a great way to make sure that no feedback is missed that needs attention.
CX Platform: Multichannel Feedback Collection (Mandatory)
Do not get comfortable with the idea of only sending survey links around. Although this method of collecting feedback shows good response rates, customer feedback should be collected on multiple sales and marketing channels, and should be constructed with the concept of customer journey mapping in mind (I will touch on this topic later on). Your Customer Experience platform needs to be able to handle modern multichannel data collection. This is crucial as the method of collection is the best way to segment your customers – which will allow you to ensure that you are able to make business decisions to provide the highest amount of value without alienating any existing customers segments.
A robust multichannel feedback collection tool will allow you to publish surveys in all of the methods listed below:
Mobile app (to be displayed in-store as a retail feedback tool)
Mobile (as an integrated solution in your company's own mobile app or website)
Website plugin (as a popup, modal window or widget on your website)
Email (send to a list of customer emails)
SMS (send to a list of customer mobile phone numbers)
Webform (a Feedbackly-hosted survey link which can be accessed without having to log in or create an account)
Inside application & software (both web app and desktop app)
QR code

Feedbackly platform's methods
CX Platform: Analytics Dashboard (Mandatory)
Data is just numbers until it is organized into graphs, charts, and other visual representations. Some people are comfortable interpreting raw numbers (we're looking at you, software developers) but for most people, raw numbers suck. The value that you get from a simple and comprehensive analytics dashboard is just as high as the customer feedback itself. So it's critical to be able to present information in actionable formats. Your dashboards and reporting capabilities must be fully interactive with options for data presentation like units, date filtering, and more.
The most important consideration is to recognize that in your organization, there will be people of all different professional backgrounds and skill levels reviewing your customer feedback data. So your analytics need to be accessible to all of these people in order to be valuable.
In addition to pure analytics and numbers, you will need segmentation and filters to allow you to match reporting to the individuals that need to action on the data. This is so important when you get to the customer communication stage of your CX strategy. It's great to get a general overview of the satisfaction level of your customers, but it's even better to be able to match customer feedback to individual customers. This is crucial if you want to retain unhappy customers and reward loyal ones because you can send personalized messages to each one with discounts or other promotions.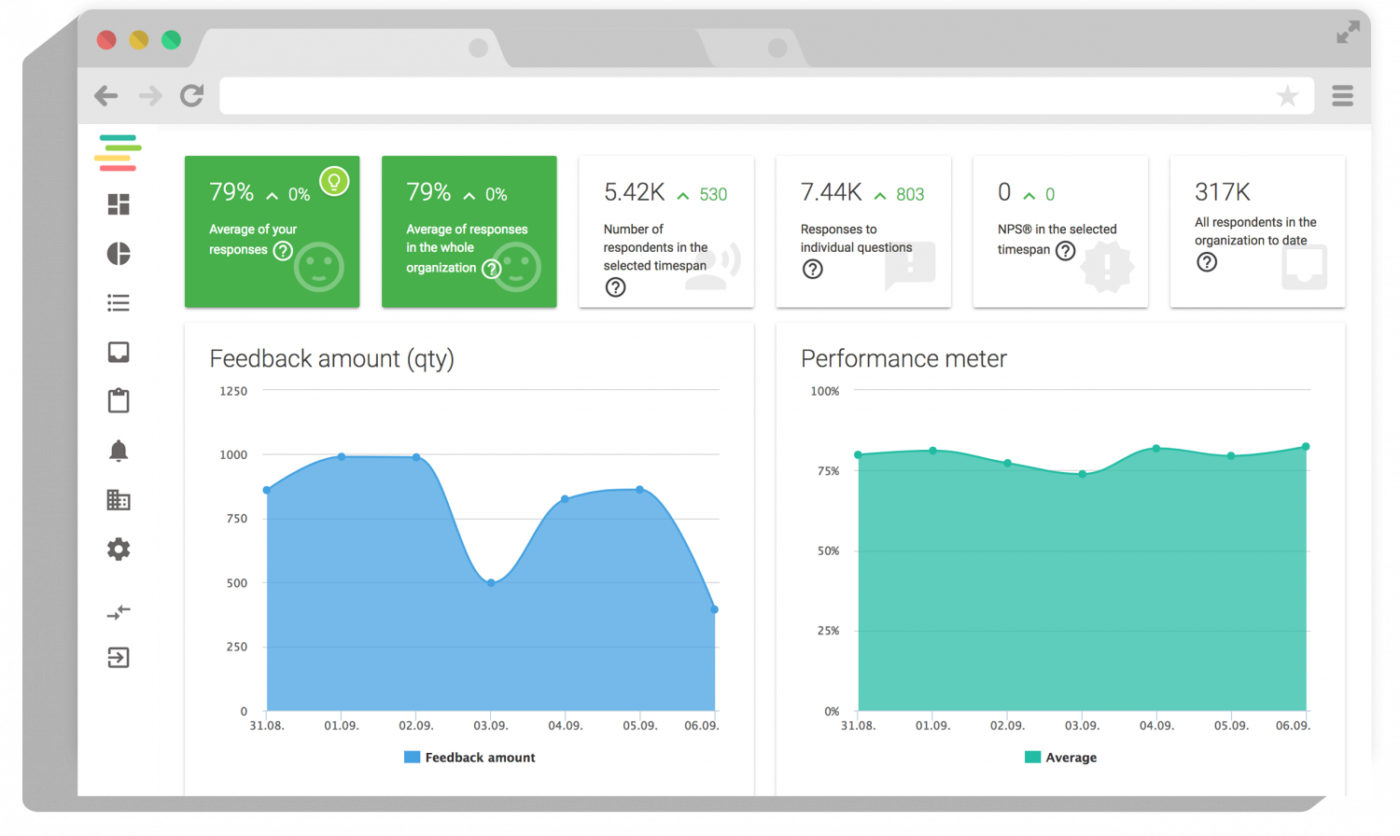 As for organization-wide KPI's, here are a few that will go a long way in giving you the best overview of the performance of your CX strategy at first glance
NPS score
Customer satisfaction
Feedback amount
Channel-specific performance
Organization bests and worsts (per channel and survey)
CX Platform: Data Export and Integrations (Nice to Have)
You should be able to easily view your data within the dashboard of your CX tool. But due to organization requirements (often in larger companies), your CX software should let your export your data as PDF, Excel, or CSV formats so that you can add the data manually to your own systems. Even better is to have access to a publicly available API. Although the latter requires more effort and a development team, it allows you to automatically import and control your customer feedback data into your own CRM or other management tool.
CX Platform: Customer Journey Mapping (Nice to Have)
The importance of customer journey mapping is indisputable. You will need to see how your customers interact with you in each step of the customer journey. This journey will change depending on your industry, business model, and available sales channels. It is so important to be able to identify the areas in which your feedback data originates – meaning that your customer satisfaction levels in the awareness phase should be differentiated from your customer satisfaction level in the product/service delivery phase.
Ideally, your CX platform will allow you to assign surveys to specific steps of your customer journey map so that you will know which stage requires improvement. If you are not taking advantage of customer journey mapping, you cannot be sure that your will be making the correct business decisions.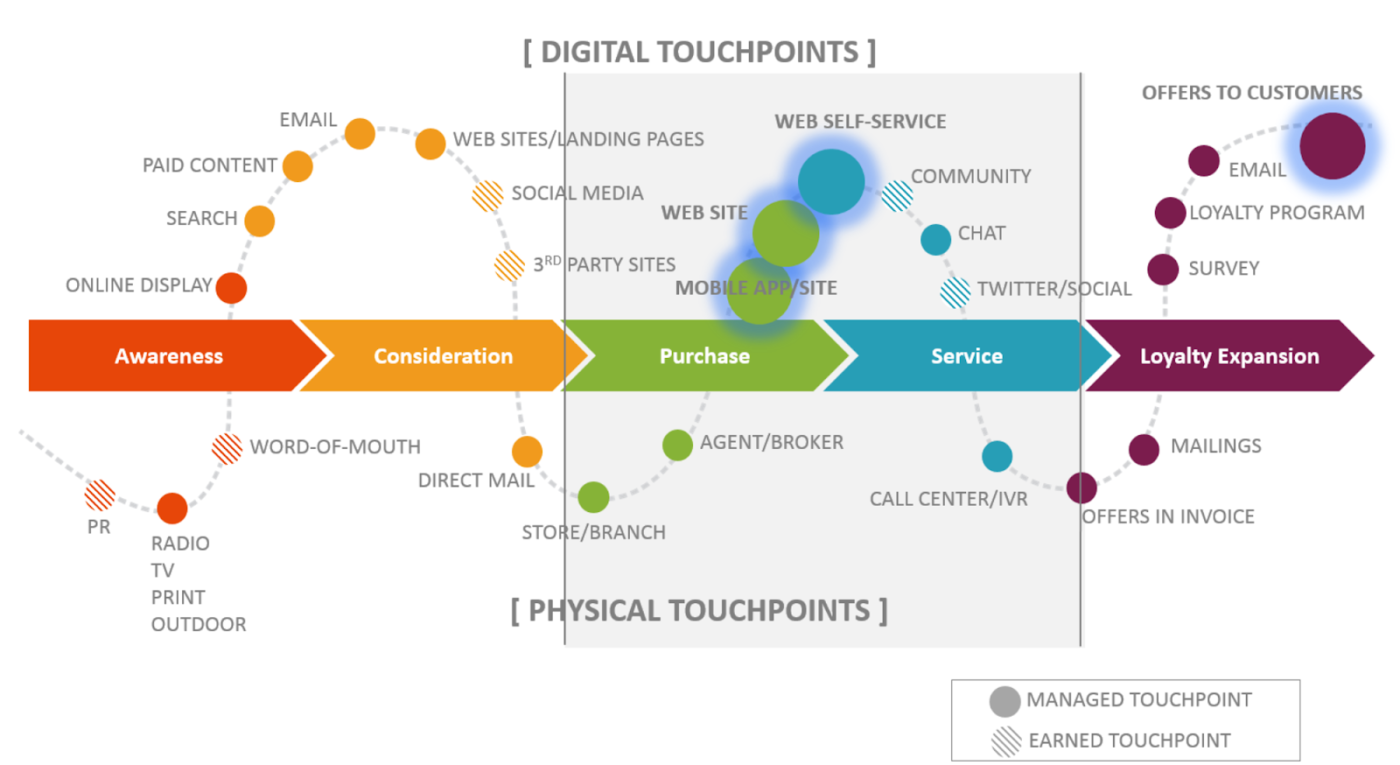 CX Platform: Built-In Sales and Marketing Tools (Nice to Have)
This is the value-creation aspect of your customer experience strategy. Most importantly, with these tools, you will be able to ensure a positive ROI for your CX strategy. By 'marketing and sales tools', I'm referring to customer communication tools, upselling tools, and conversion tracking, among other things. In the above sections I referenced importance of being able to attribute customer contact data to specific feedback in order to retain lost customers and reward your most loyal ones. But how do you reward them? By example sending automated upsell offers in the after-purchase stage of the customer journey. This way it's possible to track exactly how much additional revenue you're earning as a result of your customer experience strategy and also send email or SMS messages directly to your customers with discounts and promotions.
Our platform not only lets customers create and set automated upsell offers, but it also enables you to track customer-specific feedback and send email and SMS messages to your customers with the Feedback Inbox tool. This way, you can be sure that your efforts are actually leading to measurable sales growth.
CX Platform: Support and Training (Nice to Have)
Customer experience is not a new concept, however there is still progress to be made in educating people about best practices for building a CX strategy. CX is a topic that is important for all employees to be educated about – not just customer service representatives or customer support managers. For this reason, when choosing a CX tool, make sure that you choose a package that includes training and support for your employees.
The level of support will vary, but live chat and support tickets are a basic necessity. The next level of support would be a dedicated customer success manager whose job is to help you succeed with your own CX strategy. Without this support, you may not be getting the most out of the CX tool. In the worst case, you may be building your CX strategy on uneven foundations.
Feedbackly offers live chat and support tickets in our lowest level SaaS subscriptions – including our free plan. For our enterprise plans, we offer phone support and a dedicated CX consultant to help your build your surveys and get the most value out of your CX strategy.
For more information about our subscription plans, click here