We are excited to announce that we have again done a bunch of new product updates. All with the aim to improve your experience when using Feedbackly and to make achieving your CX goals easier.
Emotional Experience & Emotional Value Index (EVI®)
You might already know it, but it's now possible to measure emotions with Feedbackly! Feedbackly's Emotional Experience surveys help you measure 8 human emotions and show you the results with a clear KPI that you can follow – Emotional Value Index (EVI®). EVI® goes deeper than NPS, CES, and CSAT and measures the emotional drivers that impact your customer's purchasing decisions. Learn more about Emotional Experience & EVI® here.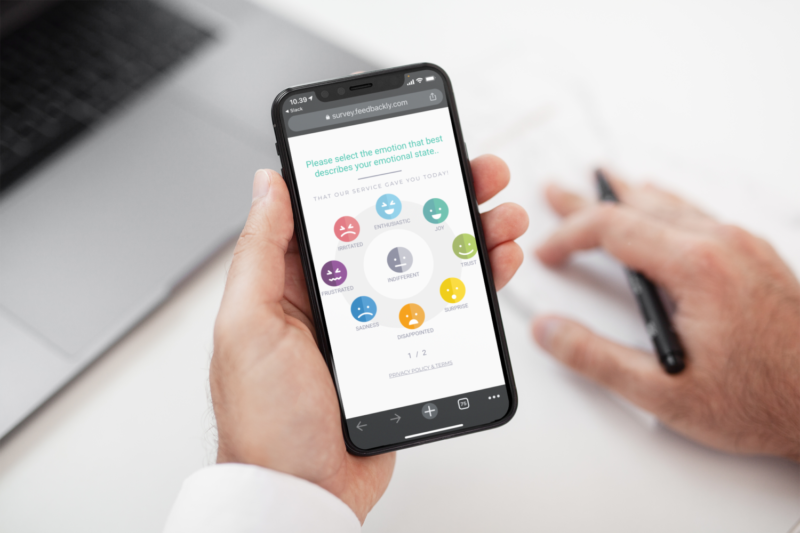 Customizable Dashboards
In addition to basic dashboards, you can now analyze your data on dashboards built only for your needs. You can now have dashboards tailored to your needs for all your teams, decision-makers, themes (Employee Experience, Emotional Experience), etc. We offer also pre-made custom dashboard templates to help you get started. Learn more about customizable dashboards here.
For example, customizable dashboards can help you learn which emotions drive you the most revenue and therefore you should evoke.
Feedbackly <3 SalesForce
Yes, it's here now! Trigger your Feedbackly surveys from Salesforce and take the feedback data back to your accounts – trigger targeted surveys, find your hottest leads, and close deals or make upsell. Easy setup and the whole thing automated! Are you using SalesForce? Contact us here to learn more about how you can benefit from this feature.
Send feedback data to Google Tag Manager
Easily send all or specific data points to Google Tag Manager (GTM) and use the valuable CX data as a part of other data sources in Google Analytics. For example, if you are collecting feedback from your webshop customers, you can now combine your feedback data with the geographical location or the engagement data of your website visitors in Google Analytics and learn why people churn. Learn how you can do it here.
Touchless mode for Feedbackly Terminals
We have added a new way of collecting feedback, where the respondent does not have to touch the feedback terminal and, for example, can give feedback from their own smartphone. Read more on how to activate touchless mode for Feedbackly terminals here.
This is just an overview of some of the most important updates. Check out all our awesome product updates here.
We'll have soon more news. Subscribe to our blog newsletter and stay tuned!
Would you like to learn more about the features above? Send us a message below