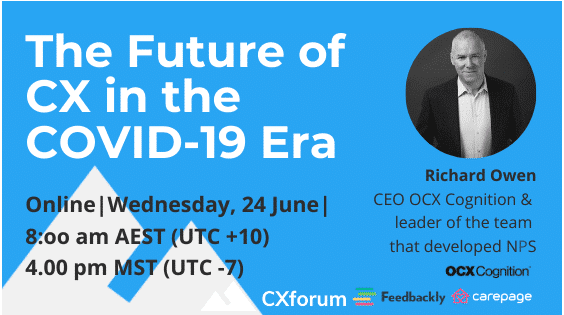 Now more than ever we live in an ever-changing business environment and also businesses face this pandemic like never before.
The COVID-19 pandemic has focused new attention on customer experience.
How can companies wisely move forward into the new normal, while keeping customers at the center of decision making?
Join the online CX Forum as we discuss the evolution of customer experience with global CX thought-leader, Richard Owen – a co-founder of OCX Cognition and one of the leads in the team that invented NPS,
We'll cover topics including:
How visionary companies should think about their long-term response to a changing world
What we know about how companies have already responded
Principles for approaching the practical challenges posed by the rapid changes in the market
The role of Net Promoter Score and when you should be asking the 'ultimate question'
Key takeaways:
Insights into how customer experience is evolving across the globe and across sectors
Insights from companies that are putting customers first during this challenging period
Key considering when designing customer experience in response to the new normal
How to adapt your strategy to create customer satisfaction and loyalty
Best practice approaches to measuring and evaluating customer experience during COVID-19 and into the future
About the speakers:
Richard Owen, CEO OCX Cognition 
Richard Owen has a singular professional focus: Delivering financial value through CX. He co-founded OCX Cognition to combine technology and programmatic consulting in pursuit of that goal, and now leads the company's coordinated efforts to deliver the right solutions for its clients.
Richard's 30-year career has centered on transforming business operations with technology, and he is one of the best-known CX thought leaders. While CEO at Satmetrix, his team led the development of the Net Promoter Score® methodology with Fred Reichheld, creating the world's most widely used CX measurement approach. With Laura Brooks, he co-authored Answering the Ultimate Question, the best-selling "how-to" guide for NPS practitioners.
Facilitators:
Lauren Todorovic, CEO CarePage & CoFounder CX Forum
Jaakko Männistö: CEO Feedbackly & CoFounder CX Forum
Register: